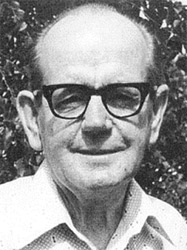 Bowen Therapy was the brainchild of Thomas Ambrose Bowen, who was born in Geelong, Australia in 1916.
He left school at 14 and after joining the local cement works as a labourer he became a prolific sportsman. With no medical qualifications he started treating people, developing his Therapy.
Tom was completely self taught – calling himself an 'osteopath' and treating over 13,000 people a year.
He died in 1982 but left no notes on his work. Throughout his career, Tom invited 6 men, his 'Bowen Boys', to watch him work take notes on what they saw. It is through these notes that the various schools of Bowen – for example BowTech and ECBS – have been developed into the world wide phenomenon that is the Bowen Technique.